Ad blocker interference detected!
Wikia is a free-to-use site that makes money from advertising. We have a modified experience for viewers using ad blockers

Wikia is not accessible if you've made further modifications. Remove the custom ad blocker rule(s) and the page will load as expected.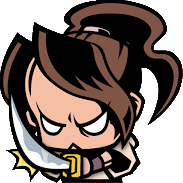 The Gotcha Warriors are the units you use to beat each Mission, they can be obtained in different ways, like by completing a mission or by using the Recruit option.
Warriors can level up by using Energy up to a Max Level per tier, up to that point the only way to upgrade a Warrior is by using the Combine option to upgrade it to the next tier.
You get 2 Premium Warriors at the start of every new game (Murasaki and Bloody Bunny).

("Attack", "Hit Points" and "Special Attack" numbers shown represent the values for the "Max Level" of the "Form" shown)
| | Name | Lvl | Recruit Type | Rarity | Gender | Affil | HP | AP | Atk Int(s) | Range |
| --- | --- | --- | --- | --- | --- | --- | --- | --- | --- | --- |
| | Ageha | 1 | Unknown | SSR | Female | Ninja | 9723 | 5560 | 1 | 410 |
| | Ageha | 2 | Unknown | SSR | Female | Ninja | 14597 | 7972 | 1 | 410 |
| | Ageha | 3 | Unknown | SSR | Female | Ninja | 16741 | 8905 | 1 | 410 |
| | Ageha | 4 | Unknown | SSSR | Female | Ninja | 18857 | 9816 | 1 | 410 |
| | Amakusa | 1 | Unknown | SSR | Male | Samurai | 14700 | 5654 | 1.3 | 310 |
| | Amakusa | 2 | Unknown | SSR | Male | Samurai | 19001 | 7157 | 1.3 | 310 |
| | Amakusa | 3 | Unknown | SSR | Male | Samurai | 21464 | 8623 | 1.3 | 310 |
| | Amakusa | 4 | Unknown | SSSR | Male | Samurai | 25883 | 9888 | 1.3 | 310 |
| | Ambersand | 1 | Unknown | SSR | Male | Army | 10747 | 5705 | 1.5 | 570 |
| | Ambersand | 2 | Unknown | SSR | Male | Army | 14815 | 6887 | 1.5 | 570 |
| | Ambersand | 3 | Unknown | SSR | Male | Army | 28991 | 7733 | 1.3 | 570 |
| | Ambersand | 4 | Unknown | SSSR | Male | Army | 31388 | 8602 | 1.5 | 570 |
| | Apron-Ver.Asahi | 1 | Unknown | SR | Female | Samurai | 6668 | 2115 | 1.3 | 310 |
| | Apron-Ver.B.Cat | 1 | Unknown | SSR | Female | Samurai | 13561 | 7424 | 1.5 | 310 |
| | Apron-Ver.Suzune | 1 | Unknown | SSR | Female | Samurai | 9483 | 6468 | 1.5 | 640 |
| | Armstrong | 1 | Unknown | R | Male | Army | 3653 | 2284 | 5 | 570 |
| | Armstrong | 2 | Unknown | R | Male | Army | 4635 | 3162 | 5 | 570 |
| | Armstrong | 3 | Unknown | R | Male | Army | 5110 | 3623 | 5.5 | 570 |
| | Armstrong | 4 | Unknown | SR | Male | Army | 5485 | 4002 | 5.5 | 570 |
| | Asahi | 1 | Unknown | SR | Female | Samurai | 6589 | 1703 | 1.3 | 310 |
| | Asahi | 2 | Unknown | SR | Female | Samurai | 8014 | 2357 | 1.3 | 310 |
| | Asahi | 3 | Unknown | SR | Female | Samurai | 9441 | 3340 | 1.3 | 310 |
| | Asahi | 4 | Unknown | SSR | Female | Samurai | 11890 | 4324 | 1.2 | 310 |
| | Azure Ageha | 1 | Unknown | SSR | Female | Ninja | 23603 | 12450 | 1 | 410 |
| | Battle Cat | 1 | Unknown | SSR | Female | Samurai | 13457 | 6440 | 1.5 | 310 |
| | Battle Cat | 2 | Unknown | SSR | Female | Samurai | 19209 | 7470 | 1.5 | 310 |
| | Battle Cat | 3 | Unknown | SSR | Female | Samurai | 22723 | 8835 | 1.5 | 310 |
| | Battle Cat | 4 | Unknown | SSSR | Female | Samurai | 27694 | 9941 | 1.5 | 310 |
| | Benihazuki | 1 | Unknown | R | Female | Ninja | 11200 | 3718 | 1.2 | 310 |
| | Benkei | 1 | Unknown | SSR | Male | Samurai | 13730 | 6522 | 2 | 310 |
| | Benkei | 2 | Unknown | SSR | Male | Samurai | 20967 | 8018 | 2 | 310 |
| | Benkei | 3 | Unknown | SSR | Male | Samurai | 26250 | 9055 | 2 | 310 |
| | Benkei | 4 | Unknown | SSSR | Male | Samurai | 38282 | 10522 | 2 | 310 |
| | Big Foot | 1 | Unknown | SR | Male | Samurai | 7380 | 4781 | 4 | 310 |
| | Big Foot | 2 | Unknown | SR | Male | Samurai | 8830 | 6624 | 4 | 310 |
| | Big Foot | 3 | Unknown | SR | Male | Samurai | 10571 | 8289 | 4 | 310 |
| | Big Foot | 4 | Unknown | SSR | Male | Samurai | 13279 | 9945 | 4 | 310 |
| | Big Foot | 5 | Unknown | SSR | Male | Samurai | 14861 | 11430 | 4 | 310 |
| | Billy The Hummer | 1 | Unknown | N+ | Male | Ninja | 1935 | 1811 | 0.1 | 120 |
| | Billy The Hummer | 2 | Unknown | N+ | Male | Ninja | 3879 | 2512 | 0.1 | 120 |
| | Billy The Hummer | 3 | Unknown | N+ | Male | Ninja | 4502 | 3280 | 2 | 120 |
| | Billy The Hummer | 4 | Unknown | R | Male | Ninja | 7600 | 4274 | 2 | 120 |
| | Bloody Bunny(Legend) | 1 | Unknown | LR | Female | Army | 16240 | 4965 | 1.4 | 640 |
| | Bloody Bunny | 1 | Unknown | R | Female | Army | 2680 | 1271 | 0.41 | 640 |
| | Bloody Bunny | 2 | Unknown | R | Female | Army | 3393 | 1760 | 0.41 | 640 |
| | Bloody Bunny | 3 | Unknown | R | Female | Army | 4479 | 2543 | 1.6 | 640 |
| | Bloody Bunny | 4 | Unknown | SR | Female | Army | 9172 | 3526 | 1.4 | 640 |
| | Bowser | 1 | Unknown | SSR | Male | Army | 10282 | 6360 | 1.3 | 310 |
| | Bowser | 2 | Unknown | SSR | Male | Army | 13543 | 6716 | 1.3 | 310 |
| | Bowser | 3 | Unknown | SSR | Male | Army | 15716 | 8293 | 1.3 | 310 |
| | Bowser | 4 | Unknown | SSSR | Male | Army | 21616 | 9795 | 1.3 | 310 |
| | Clynes Balkan | 1 | Unknown | SSR | Male | Army | N/A | 0 | 1 | 0 |
| | Clynes X | 1 | Unknown | SSR | Male | Army | 9413 | 6447 | 1.2 | 310 |
| | Clynes X | 2 | Unknown | SSR | Male | Army | 12859 | 6887 | 1.2 | 310 |
| | Clynes X | 3 | Unknown | SSR | Male | Army | 15204 | 8385 | 1.2 | 310 |
| | Clynes X | 4 | Unknown | SSSR | Male | Army | 20488 | 9946 | 1.2 | 310 |
| | Clynes Z | 1 | Unknown | SSSR | Male | Army | 27361 | 13043 | 1.2 | 310 |
| | Dark Liu Bei | 1 | Unknown | SSSR | Male | Samurai | 22633 | 12533 | 1 | 310 |
| | Django | 1 | Unknown | R | Male | Samurai | 3382 | 2365 | 2.2 | 310 |
| | Django | 2 | Unknown | R | Male | Samurai | 4230 | 3280 | 2.2 | 310 |
| | Django | 3 | Unknown | R | Male | Samurai | 7137 | 4029 | 1.4 | 310 |
| | Django | 4 | Unknown | SR | Male | Samurai | 11434 | 5433 | 1.4 | 310 |
| | Dr,Leonardo | 1 | Unknown | R | Male | 100 | 12642 | 4299 | 1.6 | 180 |
| | Dr,Leonardo | 1 | Unknown | Silver | Male | 100 | 13390 | 6174 | 1.6 | 180 |
| | Dr,Leonardo | 1 | Unknown | Pajamas | Male | 100 | 14220 | 6288 | 1.6 | 180 |
| | Dr,Leonardo | 2 | Unknown | Gold | Male | 100 | 18195 | 7208 | 1.6 | 180 |
| | Dr.Gengai | 1 | Unknown | SSR | Male | Army | 10621 | 5555 | 1.6 | 570 |
| | Dr.Gengai | 2 | Unknown | SSR | Male | Army | 14915 | 6685 | 1.6 | 570 |
| | Dr.Gengai | 3 | Unknown | SSR | Male | Army | 17239 | 7470 | 1.6 | 570 |
| | Dr.Gengai | 4 | Unknown | SSSR | Male | Army | 27131 | 9800 | 1.6 | 570 |
| | Epsilon Ace | 2 | Unknown | SSR | Male | Army | 12415 | 6522 | 2.1 | 570 |
| | Epsilon Beta | 1 | Unknown | SSR | Male | Army | 13254 | 7320 | 2.1 | 570 |
| | Epsilon Delta | 3 | Unknown | SSSR | Male | Army | 29626 | 11004 | 2.1 | 570 |
| | Epsilon Gamma | 2 | Unknown | SSR | Male | Army | 19193 | 8171 | 2.1 | 570 |
| | Epsilon Parts | 1 | Unknown | SSR | Male | Army | N/A | N/A | N/A | N/A |
| | Fukuro | 1 | Unknown | R | Male | Ninja | 3622 | 1992 | 1.5 | 310 |
| | Fukuro | 2 | Unknown | R | Male | Ninja | 5827 | 2758 | 1.2 | 310 |
| | Fukuro | 3 | Unknown | R | Male | Ninja | 6620 | 3297 | 1.3 | 310 |
| | Fukuro | 4 | Unknown | SR | Male | Ninja | 10935 | 5870 | 1.2 | 310 |
| | Fuuka | 1 | Unknown | SSR | Female | Samurai | 9187 | 6202 | 1.5 | 310 |
| | Fuuka | 2 | Unknown | SSR | Female | Samurai | 13559 | 6831 | 1.5 | 310 |
| | Fuuka | 3 | Unknown | SSR | Female | Samurai | 14827 | 8311 | 1.5 | 310 |
| | Fuuka | 4 | Unknown | SSSR | Female | Samurai | 20452 | 10114 | 1.5 | 310 |
| | Gauntlet | 1 | Unknown | SSR | Male | Ninja | N/A | 0 | 1 | 0 |
| | Gekkouhazuki | 2 | Unknown | SSR | Female | Ninja | 32058 | 4372 | 1.2 | 310 |
| | Ginji | 1 | Unknown | SSR | Male | Samurai | 9272 | 6354 | 1.1 | 310 |
| | Ginji | 2 | Unknown | SSR | Male | Samurai | 13672 | 7174 | 1.1 | 310 |
| | Ginji | 3 | Unknown | SSR | Male | Samurai | 15811 | 8344 | 1.1 | 310 |
| | Ginji | 4 | Unknown | SSSR | Male | Samurai | 21471 | 9940 | 1.1 | 310 |
| | Goemon | 1 | Unknown | SSR | Male | Ninja | 9324 | 4817 | 4 | 410 |
| | Goemon | 2 | Unknown | SSR | Male | Ninja | 11262 | 5612 | 4 | 410 |
| | Goemon | 3 | Unknown | SSR | Male | Ninja | 15419 | 6540 | 3.1 | 410 |
| | Goemon | 4 | Unknown | SSSR | Male | Ninja | 17600 | 7694 | 3.1 | 410 |
| | Gou Kojiro | 1 | Unknown | R | Male | Samurai | 8306 | 3810 | 0.5 | 310 |
| | Guan Yu | 1 | Unknown | SSR | Male | Samurai | 9385 | 6680 | 1.3 | 310 |
| | Guan Yu | 2 | Unknown | SSR | Male | Samurai | 14237 | 8024 | 1.3 | 310 |
| | Guan Yu | 3 | Unknown | SSR | Male | Samurai | 15860 | 8650 | 1.3 | 310 |
| | Guan Yu | 4 | Unknown | SSSR | Male | Samurai | 20452 | 10267 | 1.3 | 310 |
| | Gyosei Satsuki | 1 | Unknown | R | Female | Ninja | 9952 | 3802 | 0.4 | 570 |
| | Hair Ornaments | 1 | Unknown | SSR | Male | Ninja | N/A | 0 | 1 | 0 |
| | Hakou Satsuki | 2 | Unknown | SSR | Female | Ninja | 18289 | 8311 | 0.4 | 570 |
| | Hakou | 1 | Unknown | SSR | Male | Ninja | N/A | 0 | 1 | 0 |
| | Hanzo(Legend) | 1 | Unknown | LR | Male | Ninja | 21904 | 8806 | 1.4 | 570 |
| | Hanzo | 1 | Unknown | SR | Male | Ninja | 7047 | 3932 | 1.6 | 570 |
| | Hanzo | 2 | Unknown | SR | Male | Ninja | 10723 | 5449 | 1.4 | 570 |
| | Hanzo | 3 | Unknown | SR | Male | Ninja | 11321 | 7113 | 1.3 | 570 |
| | Hanzo | 4 | Unknown | SSR | Male | Ninja | 15725 | 8157 | 1.3 | 570 |
| | Haruka | 1 | Unknown | SSR | Female | Ninja | 8906 | 5578 | 1.4 | 570 |
| | Haruka | 2 | Unknown | SSR | Female | Ninja | 11501 | 7045 | 1.4 | 570 |
| | Haruka | 3 | Unknown | SSR | Female | Ninja | 13594 | 7987 | 1.4 | 570 |
| | Haruka | 4 | Unknown | SSSR | Female | Ninja | 19109 | 9632 | 1.4 | 570 |
| | Hazuki | 1 | Unknown | N+ | Female | Ninja | 2669 | 1061 | 0.5 | 310 |
| | Hazuki | 2 | Unknown | N+ | Female | Ninja | 4376 | 1469 | 0.5 | 310 |
| | Hazuki | 3 | Unknown | N+ | Female | Ninja | 5383 | 2055 | 0.5 | 310 |
| | Hazuki | 4 | Unknown | R | Female | Ninja | 6661 | 2839 | 0.5 | 310 |
| | Helmet Of Kappa | 1 | Unknown | SSR | Male | Samurai | N/A | 0 | 1 | 0 |
| | Homura | 1 | Unknown | SSR | Male | Ninja | 10171 | 5576 | 1.6 | 410 |
| | Homura | 2 | Unknown | SSR | Male | Ninja | 13581 | 6696 | 1.6 | 410 |
| | Homura | 3 | Unknown | SSR | Male | Ninja | 14805 | 8349 | 1.6 | 410 |
| | Homura | 4 | Unknown | SSSR | Male | Ninja | 20948 | 10271 | 1.6 | 410 |
| | Hunter Jango | 1 | Unknown | R | Male | Samurai | 12010 | 4406 | 1.7 | 310 |
| | Itachimaru | 1 | N/A | R | Male | Ninja | N/A | N/A | 1.6 | 310 |
| | Jackal | 1 | Unknown | SSR | Male | Army | 13007 | 7208 | 5 | 900 |
| | Jackal | 2 | Unknown | SSR | Male | Army | 20591 | 8528 | 4.5 | 900 |
| | Jackal | 3 | Unknown | SSR | Male | Army | 28624 | 9586 | 4.5 | 900 |
| | Jackal | 4 | Unknown | SSSR | Male | Army | 31646 | 12227 | 4 | 900 |
| | Jakuren | 1 | Unknown | SSR | Male | Ninja | 9958 | 6556 | 2.7 | 410 |
| | Jakuren | 2 | Unknown | SSR | Male | Ninja | 11275 | 8184 | 3.3 | 410 |
| | Jakuren | 3 | Unknown | SSR | Male | Ninja | 16874 | 8965 | 2.7 | 410 |
| | Jakuren | 4 | Unknown | SSSR | Male | Ninja | 26932 | 13219 | 2.5 | 410 |
| | Lava Jakuren | 1 | Unknown | SSSR | Male | Ninja | 34842 | 14686 | 2 | 410 |
| | Kaede | 1 | Unknown | SSR | Female | Ninja | 9893 | 5739 | 1 | 410 |
| | Kaede | 2 | Unknown | SSR | Female | Ninja | 11298 | 6849 | 1 | 410 |
| | Kaede | 3 | Unknown | SSR | Female | Ninja | 12333 | 8810 | 1.6 | 410 |
| | Kaede | 4 | Unknown | SSSR | Female | Ninja | 17577 | 9788 | 1 | 410 |
| | Kage Shuriken | 1 | Unknown | SSR | Male | Ninja | N/A | 0 | 1 | 0 |
| | Kagemaru | 1 | Unknown | SR | Male | Ninja | 4885 | 1813 | 0.5 | 570 |
| | Kagemaru | 2 | Unknown | SR | Male | Ninja | 5913 | 3330 | 0.5 | 570 |
| | Kagemaru | 3 | Unknown | SR | Male | Ninja | 6989 | 4851 | 0.5 | 570 |
| | Kagemaru | 4 | Unknown | SSR | Male | Ninja | 7885 | 6518 | 0.5 | 570 |
| | Kagura | 1 | Unknown | SSR | Male | Ninja | 10101 | 5881 | 1.5 | 570 |
| | Kagura | 2 | Unknown | SSR | Male | Ninja | 13777 | 6877 | 1.5 | 570 |
| | Kagura | 3 | Unknown | SSR | Male | Ninja | 15770 | 7861 | 1.5 | 570 |
| | Kagura | 4 | Unknown | SSSR | Male | Ninja | 20261 | 9811 | 1.5 | 570 |
| | Kanon | 1 | Unknown | SSR | Female | Army | 10963 | 5888 | 1.7 | 570 |
| | Kanon | 2 | Unknown | SSR | Female | Army | 13674 | 7007 | 1.7 | 570 |
| | Kanon | 3 | Unknown | SSR | Female | Army | 19201 | 7578 | 1.7 | 570 |
| | Kanon | 4 | Unknown | SSSR | Female | Army | 21369 | 9775 | 1.7 | 570 |
| | Kappa | 1 | Unknown | N | Male | Samurai | 849 | 196 | 1 | 310 |
| | Kappa | 2 | Unknown | N+ | Male | Samurai | 1052 | 277 | 1 | 310 |
| | Kappa | 3 | Unknown | R | Male | Samurai | 3936 | 668 | 1 | 310 |
| | Kappa | 4 | Unknown | SSR | Male | Samurai | 12566 | 9055 | 3.1 | 310 |
| | Kikka Satsuki | 2 | Unknown | SSR | Female | Ninja | 19342 | 5804 | 0.4 | 570 |
| | Kiryuu | 1 | Unknown | SSR | Male | Samurai | 9240 | 6540 | 1.2 | 310 |
| | Kiryuu | 2 | Unknown | SSR | Male | Samurai | 13550 | 7376 | 1.2 | 310 |
| | Kiryuu | 3 | Unknown | SSR | Male | Samurai | 15769 | 8613 | 1.2 | 310 |
| | Kiryuu | 4 | Unknown | SSSR | Male | Samurai | 20599 | 10055 | 1.2 | 310 |
| | Kisaragi(Legend) | 1 | Unknown | LR | Female | Ninja | 18120 | 6756 | 1.2 | 310 |
| | Kisaragi | 1 | Unknown | R | Female | Ninja | 4139 | 1992 | 1.4 | 310 |
| | Kisaragi | 2 | Unknown | R | Female | Ninja | 6029 | 2742 | 1.2 | 310 |
| | Kisaragi | 3 | Unknown | R | Female | Ninja | 6820 | 4241 | 1.6 | 310 |
| | Kisaragi | 4 | Unknown | SR | Female | Ninja | 10077 | 6233 | 1.2 | 310 |
| | Kojiro | 1 | Unknown | N+ | Male | Samurai | 3359 | 1615 | 0.5 | 310 |
| | Kojiro | 2 | Unknown | N+ | Male | Samurai | 4263 | 2235 | 0.5 | 310 |
| | Kojiro | 3 | Unknown | N+ | Male | Samurai | 6797 | 2823 | 0.5 | 310 |
| | Kojiro | 4 | Unknown | R | Male | Samurai | 8404 | 3606 | 0.5 | 310 |
| | Kumo | 1 | Unknown | N | Male | Ninja | 1980 | 244 | 0.5 | 570 |
| | Kumo | 2 | Unknown | N | Male | Ninja | 2511 | 652 | 0.5 | 570 |
| | Kumo | 3 | Unknown | N+ | Male | Ninja | 2952 | 1077 | 0.5 | 570 |
| | Kumo | 4 | Unknown | R | Male | Ninja | 4083 | 1583 | 0.5 | 570 |
| | Kumo | 5 | Unknown | R | Male | Ninja | 4526 | 2046 | 0.5 | 570 |
| | Liu Bei Crown | 1 | Unknown | SSR | Male | Samurai | N/A | 0 | 1 | 0 |
| | Liu Bei | 1 | Unknown | SSR | Male | Samurai | 9039 | 6359 | 1 | 310 |
| | Liu Bei | 2 | Unknown | SSR | Male | Samurai | 12214 | 7157 | 1 | 310 |
| | Liu Bei | 3 | Unknown | SSR | Male | Samurai | 14187 | 8222 | 1 | 310 |
| | Liu Bei | 4 | Unknown | SSSR | Male | Samurai | 19251 | 9620 | 1 | 310 |
| | Lu Bu | 1 | Unknown | SSR | Male | Samurai | 9482 | 6859 | 1.3 | 310 |
| | Lu Bu | 2 | Unknown | SSR | Male | Samurai | 14463 | 8152 | 1.3 | 310 |
| | Lu Bu | 3 | Unknown | SSR | Male | Samurai | 16025 | 8818 | 1.3 | 310 |
| | Lu Bu | 4 | Unknown | SSSR | Male | Samurai | 20575 | 10455 | 1.3 | 310 |
| | Mashiba | 1 | Unknown | SR | Male | Ninja | N/A | N/A | 1.6 | 310 |
| | Melissa | 1 | Unknown | SSR | Female | Army | 9154 | 5741 | 1.6 | 640 |
| | Melissa | 2 | Unknown | SSR | Female | Army | 13559 | 6685 | 1.6 | 640 |
| | Melissa | 3 | Unknown | SSR | Female | Army | 15309 | 7267 | 1.6 | 640 |
| | Melissa | 4 | Unknown | SSSR | Female | Army | 19091 | 9834 | 1.6 | 640 |
| | Monroe(Legend) | 1 | Unknown | LR | Female | Army | 17939 | 4794 | 0.28 | 410 |
| | Monroe | 1 | Unknown | R | Female | Army | 4536 | 1827 | 0.28 | 410 |
| | Monroe | 2 | Unknown | R | Female | Army | 5678 | 2528 | 0.28 | 410 |
| | Monroe | 3 | Unknown | R | Female | Army | 6831 | 3280 | 0.28 | 410 |
| | Monroe | 4 | Unknown | SR | Female | Army | 9659 | 4274 | 0.28 | 410 |
| | Mukuro | 1 | Unknown | SSR | Male | Ninja | 9150 | 6582 | 1.4 | 310 |
| | Mukuro | 2 | Unknown | SSR | Male | Ninja | 12623 | 7521 | 1.4 | 310 |
| | Mukuro | 3 | Unknown | SSR | Male | Ninja | 15008 | 8328 | 1.4 | 310 |
| | Mukuro | 4 | Unknown | SSSR | Male | Ninja | 20513 | 10122 | 1.4 | 310 |
| | Murasaki | 1 | Unknown | R | Male | Samurai | 4354 | 2186 | 1.6 | 310 |
| | Murasaki | 2 | Unknown | R | Male | Samurai | 6514 | 3035 | 1.4 | 310 |
| | Murasaki | 3 | Unknown | R | Male | Samurai | 6774 | 3785 | 1.6 | 310 |
| | Murasaki | 4 | Unknown | SR | Male | Samurai | 12227 | 5302 | 1.4 | 310 |
| | Muto | 1 | Unknown | SR | Male | Samurai | 6153 | 3623 | 1.6 | 310 |
| | Muto | 2 | Unknown | SR | Male | Samurai | 7833 | 5017 | 1.6 | 410 |
| | Muto | 3 | Unknown | SR | Male | Samurai | 8368 | 6781 | 2.5 | 410 |
| | Muto | 4 | Unknown | SSR | Male | Samurai | 15001 | 10631 | 2.9 | 410 |
| | Nishiki Sumire | 1 | Unknown | R | Female | Samurai | 13000 | 4326 | 1.2 | 310 |
| | Nobunaga | 1 | Unknown | SSR | Male | Samurai | 10051 | 6533 | 1.3 | 310 |
| | Nobunaga | 2 | Unknown | SSR | Male | Samurai | 14478 | 7853 | 1.3 | 310 |
| | Nobunaga | 3 | Unknown | SSR | Male | Samurai | 15811 | 8818 | 1.3 | 310 |
| | Nobunaga | 4 | Unknown | SSSR | Male | Samurai | 21471 | 9795 | 1.3 | 310 |
| | Nobunaga | 5 | Unknown | SSSR | Male | Samurai | 33099 | 13576 | 1.2 | 310 |
| | Nobuyoshi | 1 | N/A | SSR | Male | Ninja | N/A | N/A | 1.6 | 310 |
| | Number:8(Legend) | 1 | Unknown | LR | Male | Army | 34796 | 20121 | 6 | 640 |
| | Number:8 | 1 | Unknown | SR | Male | Army | 4581 | 5873 | 6 | 640 |
| | Number:8 | 2 | Unknown | SR | Male | Army | 6435 | 8124 | 6 | 640 |
| | Number:8 | 3 | Unknown | SR | Male | Army | 9184 | 9788 | 6 | 640 |
| | Number:8 | 4 | Unknown | SSR | Male | Army | 13161 | 16033 | 6 | 640 |
| | O.B.L | 1 | Unknown | N+ | Male | Army | 10028 | 0 | -1 | 0 |
| | O.B.L | 2 | Unknown | N+ | Male | Army | 11042 | 0 | -1 | 0 |
| | O.B.L | 3 | Unknown | N+ | Male | Army | 11777 | 0 | -1 | 0 |
| | O.B.L | 4 | Unknown | R | Male | Army | 18187 | 0 | -1 | 0 |
| | O.B.L | 5 | Unknown | R | Male | Army | 21482 | 0 | -1 | 0 |
| | Oboro Murasaki | 1 | Unknown | R | Male | Samurai | 11750 | 4030 | 1.4 | 310 |
| | Oni(Legend) | 1 | Unknown | LR | Male | Samurai | 49224 | 16431 | 2.5 | 310 |
| | Oni | 1 | Unknown | SSR | Male | Samurai | 11333 | 8174 | 3 | 310 |
| | Oni | 2 | Unknown | SSR | Male | Samurai | 18107 | 9055 | 3 | 310 |
| | Oni | 3 | Unknown | SSR | Male | Samurai | 21246 | 11630 | 3 | 310 |
| | Oni | 4 | Unknown | SSSR | Male | Samurai | 28104 | 14307 | 2.5 | 310 |
| | Panther | 1 | Unknown | N | Male | Army | 1719 | 831 | 2 | 640 |
| | Panther | 2 | Unknown | N | Male | Army | 2556 | 1159 | 2 | 640 |
| | Panther | 3 | Unknown | N+ | Male | Army | 3472 | 1632 | 2 | 640 |
| | Panther | 4 | Unknown | R | Male | Army | 6221 | 2267 | 1 | 640 |
| | Panther | 5 | Unknown | R | Male | Army | 8704 | 2722 | 1 | 640 |
| | Puppy | 1 | Unknown | R | Female | Army | 4037 | 375 | 0.5 | 120 |
| | Puppy | 2 | Unknown | R | Female | Army | 5123 | 522 | 0.5 | 120 |
| | Puppy | 3 | Unknown | R | Female | Army | 6198 | 1273 | 0.5 | 120 |
| | Puppy | 4 | Unknown | SR | Female | Army | 8890 | 1615 | 0.5 | 120 |
| | Puppy | 5 | Unknown | SSR | Female | Army | 12280 | 4742 | 0.5 | 120 |
| | Raiga | 1 | Unknown | SR | Male | Samurai | 9143 | 5068 | 1.5 | 310 |
| | Raiga | 2 | Unknown | SR | Male | Samurai | 13540 | 6078 | 1.5 | 310 |
| | Raiga | 3 | Unknown | SSR | Male | Samurai | 14601 | 8566 | 1.5 | 310 |
| | Raiga | 4 | Unknown | SSSR | Male | Samurai | 18115 | 11729 | 1.5 | 310 |
| | Raitei | 1 | Unknown | SSR | Male | Ninja | 10187 | 5252 | 1.4 | 410 |
| | Raitei | 2 | Unknown | SSR | Male | Ninja | 11990 | 6466 | 1.4 | 410 |
| | Raitei | 3 | Unknown | SSR | Male | Ninja | 14181 | 8232 | 1.5 | 410 |
| | Raitei | 4 | Unknown | SSSR | Male | Ninja | 18707 | 9615 | 1.4 | 410 |
| | Ranmaru | 1 | Unknown | SSR | Female | Samurai | 9416 | 5508 | 1.45 | 410 |
| | Ranmaru | 2 | Unknown | SSR | Female | Samurai | 13558 | 7806 | 1.45 | 410 |
| | Ranmaru | 3 | Unknown | SSR | Female | Samurai | 14820 | 8637 | 1.45 | 410 |
| | Ranmaru | 4 | Unknown | SSSR | Female | Samurai | 20361 | 9628 | 1.4 | 410 |
| | Rasheed | 1 | Unknown | SSR | Male | Army | 10151 | 5741 | 1.3 | 410 |
| | Rasheed | 2 | Unknown | SSR | Male | Army | 12329 | 8033 | 1.3 | 410 |
| | Rasheed | 3 | Unknown | SSR | Male | Army | 13571 | 8999 | 1.3 | 410 |
| | Rasheed | 4 | Unknown | SSSR | Male | Army | 20556 | 10303 | 1.3 | 410 |
| | Recruitman Statue | 1 | N/A | Bronze | Male | N/A | N/A | N/A | N/A | N/A |
| | Recruitman Statue | 1 | N/A | Silver | Male | N/A | N/A | N/A | N/A | N/A |
| | Recruitman Statue | 1 | N/A | Gold | Male | N/A | N/A | N/A | N/A | N/A |
| | Red Zone(Legend) | 1 | Unknown | LR | Male | Army | 30380 | 8009 | 2 | 310 |
| | Red Zone | 1 | Unknown | SR | Male | Army | 7392 | 1958 | 1.9 | 310 |
| | Red Zone | 2 | Unknown | SR | Male | Army | 11900 | 2448 | 1.9 | 310 |
| | Red Zone | 3 | Unknown | SR | Male | Army | 13821 | 2937 | 1.9 | 310 |
| | Red Zone | 4 | Unknown | SSR | Male | Army | 20277 | 6900 | 1.9 | 310 |
| | Ryuuzen | 1 | Unknown | SSR | Male | Samurai | 10043 | 6355 | 1.25 | 310 |
| | Ryuuzen | 2 | Unknown | SSR | Male | Samurai | 12655 | 6879 | 1.25 | 310 |
| | Ryuuzen | 3 | Unknown | SSR | Male | Samurai | 13920 | 8165 | 1.25 | 310 |
| | Ryuuzen | 4 | Unknown | SSSR | Male | Samurai | 20375 | 9653 | 1.25 | 310 |
| | Sakura | 1 | Unknown | N+ | Female | Samurai | 2556 | 1208 | 0.27 | 570 |
| | Sakura | 2 | Unknown | R | Female | Samurai | 3970 | 1664 | 0.27 | 570 |
| | Sakura | 3 | Unknown | R | Female | Samurai | 5949 | 2463 | 0.27 | 570 |
| | Sakura | 4 | Unknown | SR | Female | Samurai | 7081 | 3247 | 0.27 | 570 |
| | Sakura | 5 | Unknown | SR | Female | Samurai | 11111 | 3891 | 0.27 | 570 |
| | Sakuya | 1 | Unknown | SSR | Female | Ninja | 9039 | 5570 | 1.4 | 570 |
| | Sakuya | 2 | Unknown | SSR | Female | Ninja | 11517 | 7252 | 1.4 | 570 |
| | Sakuya | 3 | Unknown | SSR | Female | Ninja | 12440 | 8119 | 1.4 | 570 |
| | Sakuya | 4 | Unknown | SSSR | Female | Ninja | 17907 | 9606 | 1.4 | 570 |
| | Sarah | 2 | Unknown | R | Female | Army | 2918 | 1648 | 2 | 640 |
| | Sarah(Legend) | 1 | Unknown | LR | Female | Army | 18430 | 4573 | 1 | 640 |
| | Sarah | 1 | Unknown | R | Female | Army | 2579 | 1159 | 2 | 640 |
| | Sarah | 3 | Unknown | R | Female | Army | 3992 | 2398 | 1 | 640 |
| | Sarah | 4 | Unknown | SR | Female | Army | 9172 | 3280 | 1 | 640 |
| | Satsuki | 1 | Unknown | N+ | Female | Ninja | 2522 | 1045 | 0.4 | 570 |
| | Satsuki | 2 | Unknown | N+ | Female | Ninja | 3201 | 1615 | 0.4 | 570 |
| | Satsuki | 3 | Unknown | R | Female | Ninja | 4275 | 2235 | 0.4 | 570 |
| | Satsuki | 4 | Unknown | R | Female | Ninja | 5406 | 3019 | 0.4 | 570 |
| | Satsuki | 5 | Unknown | R | Female | Ninja | 6876 | 3604 | 0.4 | 570 |
| | Scorpion | 1 | Unknown | N | Male | Army | 2748 | 1322 | 0.3 | 310 |
| | Scorpion | 2 | Unknown | N+ | Male | Army | 3518 | 1615 | 0.3 | 310 |
| | Scorpion | 3 | Unknown | N+ | Male | Army | 4331 | 2414 | 0.3 | 310 |
| | Scorpion | 4 | Unknown | R | Male | Army | 5791 | 3214 | 0.3 | 310 |
| | Sefiria | 1 | Unknown | SSR | Female | Army | 9593 | 5544 | 1.25 | 410 |
| | Sefiria | 2 | Unknown | SSR | Female | Army | 13796 | 7923 | 1.25 | 410 |
| | Sefiria | 3 | Unknown | SSR | Female | Army | 15177 | 8734 | 1.25 | 410 |
| | Sefiria | 4 | Unknown | SSSR | Female | Army | 22488 | 9780 | 1.25 | 410 |
| | Shin | 1 | Unknown | N+ | Female | Army | 3687 | 880 | 0.3 | 310 |
| | Shin | 2 | Unknown | N+ | Female | Army | 4275 | 1436 | 0.3 | 310 |
| | Shin | 3 | Unknown | N+ | Female | Army | 5395 | 2023 | 1.5 | 310 |
| | Shin | 4 | Unknown | R | Female | Army | 6740 | 2807 | 1.5 | 310 |
| | Shin | 5 | Unknown | R | Female | Army | 10628 | 3769 | 1.5 | 310 |
| | Shinryu Murasaki | 1 | Unknown | GOD | Male | Samurai | 20088 | 10866 | 1.4 | 310 |
| | Shisui | 1 | Unknown | SSR | Male | Ninja | 9673 | 6212 | 1.4 | 310 |
| | Shisui | 2 | Unknown | SSR | Male | Ninja | 12655 | 6691 | 1.4 | 310 |
| | Shisui | 3 | Unknown | SSR | Male | Ninja | 14438 | 8232 | 1.4 | 310 |
| | Shisui | 4 | Unknown | SSSR | Male | Ninja | 28374 | 8693 | 1.4 | 310 |
| | Shizu | 1 | Unknown | N+ | Female | Samurai | 3235 | 1485 | 0.5 | 310 |
| | Shizu | 2 | Unknown | N+ | Female | Samurai | 4105 | 2055 | 0.5 | 310 |
| | Shizu | 3 | Unknown | R | Female | Samurai | 6582 | 3443 | 0.1 | 310 |
| | Shizu | 4 | Unknown | SR | Female | Samurai | 11920 | 5074 | 0.1 | 310 |
| | Shizu | 5 | Unknown | SSR | Female | Samurai | 12606 | 8148 | 0.1 | 310 |
| | Shunki Kojiro | 2 | Unknown | SSR | Male | Samurai | 23600 | 6546 | 0.5 | 310 |
| | Silverwolf | 1 | Unknown | SSR | Male | Army | 9187 | 6447 | 1.3 | 190 |
| | Silverwolf | 2 | Unknown | SSR | Male | Army | 12454 | 7950 | 1.3 | 190 |
| | Silverwolf | 3 | Unknown | SSR | Male | Army | 15882 | 8417 | 1.3 | 190 |
| | Silverwolf | 4 | Unknown | SSSR | Male | Army | 18002 | 9881 | 1.3 | 285 |
| | Smash Cat(Legend) | 1 | Unknown | LR | Female | Army | 27701 | 16230 | 4.8 | 580 |
| | Smash Cat | 1 | Unknown | SR | Female | Army | 4162 | 4927 | 5.3 | 570 |
| | Smash Cat | 2 | Unknown | SR | Female | Army | 5916 | 6543 | 4.8 | 570 |
| | Smash Cat | 3 | Unknown | SR | Female | Army | 6922 | 8207 | 4.8 | 570 |
| | Smash Cat | 4 | Unknown | SSR | Female | Army | 11957 | 13452 | 4.8 | 570 |
| | St.V-Ver.Asahi | 2 | Unknown | SSR | Female | Samurai | 9370 | 3600 | 1.3 | 310 |
| | St.V-Ver.B.Cat | 2 | Unknown | SSSR | Female | Samurai | 19991 | 8823 | 1.5 | 310 |
| | St.V-Ver.Suzune | 2 | Unknown | SSSR | Female | Samurai | 12440 | 8847 | 1.5 | 640 |
| | Stephanie | 1 | Unknown | SR | Female | Army | 4128 | 0 | -1 | 0 |
| | Stephanie | 2 | Unknown | SR | Female | Army | 5236 | 0 | -1 | 0 |
| | Stephanie | 3 | Unknown | SR | Female | Army | 6899 | 0 | -1 | 0 |
| | Stephanie | 4 | Unknown | SSR | Female | Army | 11859 | 0 | -1 | 0 |
| | Sumire | 1 | Unknown | R | Female | Samurai | 4196 | 2055 | 1.5 | 310 |
| | Sumire | 2 | Unknown | R | Female | Samurai | 6300 | 2872 | 1.2 | 310 |
| | Sumire | 3 | Unknown | R | Female | Samurai | 6808 | 3622 | 1.5 | 310 |
| | Sumire | 4 | Unknown | SR | Female | Samurai | 10915 | 4618 | 1.2 | 310 |
| | Sunshine(Legend) | 1 | Unknown | LR | Male | Army | 43470 | 0 | -1 | 0 |
| | Sunshine | 1 | Unknown | SR | Male | Army | 5972 | 0 | -1 | 0 |
| | Sunshine | 2 | Unknown | SR | Male | Army | 7578 | 0 | -1 | 0 |
| | Sunshine | 3 | Unknown | SR | Male | Army | 9987 | 0 | -1 | 0 |
| | Sunshine | 4 | Unknown | SSR | Male | Army | 17158 | 0 | -1 | 0 |
| | Supica | 1 | Unknown | SSR | Female | Army | 9751 | 5834 | 1.6 | 570 |
| | Supica | 2 | Unknown | SSR | Female | Army | 14681 | 7079 | 1.6 | 570 |
| | Supica | 3 | Unknown | SSR | Female | Army | 15810 | 7668 | 1.6 | 570 |
| | Supica | 4 | Unknown | SSSR | Female | Army | 18190 | 9281 | 1.6 | 570 |
| | Survival Bunny | 2 | Unknown | SSR | Female | Army | 28110 | 4414 | 1.4 | 640 |
| | Suzune | 1 | Unknown | SSR | Female | Samurai | 9378 | 5540 | 1.5 | 640 |
| | Suzune | 2 | Unknown | SSR | Female | Samurai | 11415 | 6913 | 1.3 | 640 |
| | Suzune | 3 | Unknown | SSR | Female | Samurai | 12446 | 7826 | 1.5 | 640 |
| | Suzune | 4 | Unknown | SSSR | Female | Samurai | 18090 | 9778 | 1.5 | 640 |
| | Tenjiku Sumire | 2 | Unknown | SSR | Female | Samurai | 20976 | 7317 | 1.4 | 310 |
| | Thief Jangear | 2 | Unknown | SSR | Male | Samurai | 40102 | 7220 | 1.7 | 310 |
| | Tokichi | 1 | N/A | SR | Male | Ninja | N/A | N/A | 1.6 | 310 |
| | Tropical Bunny | 1 | Unknown | R | Female | Army | 10910 | 2945 | 1.4 | 640 |
| | Tsubaki | 1 | Unknown | SSR | Female | Samurai | 11425 | 5542 | 1.5 | 310 |
| | Tsubaki | 2 | Unknown | SSR | Female | Samurai | 16289 | 7606 | 1.5 | 310 |
| | Tsubaki | 3 | Unknown | SSR | Female | Samurai | 18097 | 8476 | 1.5 | 310 |
| | Tsubaki | 4 | Unknown | SSSR | Female | Samurai | 25996 | 9725 | 1.5 | 310 |
| | T-Wolf | 1 | Unknown | N+ | Male | Army | 2093 | 978 | 0.5 | 640 |
| | T-Wolf | 2 | Unknown | N+ | Male | Army | 3121 | 1663 | 0.5 | 640 |
| | T-Wolf | 3 | Unknown | N+ | Male | Army | 4671 | 2494 | 0.5 | 640 |
| | T-Wolf | 4 | Unknown | R | Male | Army | 5067 | 3379 | 0.5 | 640 |
| | T-Wolf | 5 | Unknown | R | Male | Army | 9045 | 3640 | 0.5 | 640 |
| | Ushiwakamaru | 1 | Unknown | SSR | Male | Samurai | 9868 | 5984 | 1 | 570 |
| | Ushiwakamaru | 2 | Unknown | SSR | Male | Samurai | 13685 | 7009 | 1 | 570 |
| | Ushiwakamaru | 3 | Unknown | SSR | Male | Samurai | 14933 | 8130 | 1 | 570 |
| | Ushiwakamaru | 4 | Unknown | SSSR | Male | Samurai | 18398 | 9844 | 1 | 570 |
| | Vesse | 1 | Unknown | SSR | Female | Army | 9102 | 5527 | 1.6 | 640 |
| | Vesse | 2 | Unknown | SSR | Female | Army | 10394 | 6360 | 1.6 | 640 |
| | Vesse | 3 | Unknown | SSR | Female | Army | 11542 | 6844 | 1.9 | 640 |
| | Vesse | 4 | Unknown | SSSR | Female | Army | 15132 | 8657 | 1.9 | 640 |
| | Vorov | 1 | Unknown | SR | Male | Army | 4614 | 3964 | 1.2 | 640 |
| | Vorov | 2 | Unknown | SR | Male | Army | 8967 | 5483 | 1.2 | 640 |
| | Vorov | 3 | Unknown | SR | Male | Army | 11216 | 7281 | 1.2 | 640 |
| | Vorov | 4 | Unknown | SSR | Male | Army | 13652 | 8148 | 1 | 640 |
| | Xmas.S. Cat | 1 | Unknown | SSR | Female | Army | 10470 | 7627 | 4.8 | 570 |
| | Xmasageha | 1 | Unknown | SSR | Female | Ninja | 29630 | 10380 | 1 | 410 |
| | Xmasvesse | 1 | Unknown | SSR | Female | Army | 18396 | 7414 | 1.6 | 640 |
| | Yamato | 1 | Unknown | SSR | Male | Samurai | 9265 | 6523 | 1.3 | 310 |
| | Yamato | 2 | Unknown | SSR | Male | Samurai | 13570 | 7164 | 1.3 | 310 |
| | Yamato | 3 | Unknown | SSR | Male | Samurai | 15821 | 8284 | 1.3 | 310 |
| | Yamato | 4 | Unknown | SSSR | Male | Samurai | 20373 | 9777 | 1.3 | 310 |
| | Yayoi | 1 | Unknown | R | Female | Ninja | 3371 | 799 | 0.4 | 310 |
| | Yayoi | 2 | Unknown | R | Female | Ninja | 4275 | 1192 | 0.4 | 310 |
| | Yayoi | 3 | Unknown | R | Female | Ninja | 5349 | 1518 | 0.4 | 310 |
| | Yayoi | 4 | Unknown | SR | Female | Ninja | 9037 | 2300 | 0.4 | 310 |
| | Yayoi | 5 | Unknown | SR | Female | Ninja | 10749 | 3118 | 0.4 | 310 |
| | Yoshidakun | 1 | Unknown | R | Male | 100 | 13836 | 3864 | 1.6 | 180 |
| | Yoshidakun | 1 | Unknown | Rare | Male | 100 | 14357 | 5542 | 1.6 | 180 |
| | Yoshidakun | 2 | Unknown | | Male | 100 | 18559 | 6574 | 1.6 | 180 |
| | Yoshimune | 1 | Unknown | SSR | Male | Samurai | 17550 | 6735 | 1.85 | 310 |
| | Yoshimune | 2 | Unknown | SSR | Male | Samurai | 24119 | 7412 | 1.85 | 310 |
| | Yoshimune | 3 | Unknown | SSR | Male | Samurai | 27108 | 9055 | 1.85 | 310 |
| | Yukata Kaede | 1 | Unknown | SSR | Female | Ninja | 21828 | 10270 | 1.6 | 410 |
| | Yukata Sakura | 1 | Unknown | SSR | Female | Samurai | 7026 | 1940 | 0.27 | 570 |
| | Yukata Sarah | 1 | Unknown | SSR | Female | Army | 7066 | 2795 | 1 | 640 |
| | Yukata Satsuki | 1 | Unknown | SSR | Female | Ninja | 5666 | 1883 | 0.4 | 570 |
| | Yukata Yayoi | 1 | Unknown | SSR | Female | Ninja | 7566 | 1389 | 0.4 | 310 |
| | Zanki Murasaki | 2 | Unknown | SSR | Male | Samurai | 24222 | 6673 | 1.4 | 310 |
| | Zetuan Satsuki | 2 | Unknown | SSR | Female | Ninja | 15012 | 9602 | 0.4 | 570 |
| | Zetuan | 1 | Unknown | SSR | Male | Ninja | N/A | N/A | N/A | N/A |
| | Zhang Fei | 1 | Unknown | SSR | Male | Samurai | 17593 | 6381 | 1.7 | 310 |
| | Zhang Fei | 2 | Unknown | SSR | Male | Samurai | 20706 | 7583 | 1.7 | 310 |
| | Zhang Fei | 3 | Unknown | SSR | Male | Samurai | 25981 | 8331 | 1.7 | 310 |
| | Zhang Fei | 4 | Unknown | SSSR | Male | Samurai | 34884 | 9940 | 1.7 | 310 |
| | Zoffy | 1 | Unknown | SSR | Female | 100 | 15246 | 5644 | 1.6 | 180 |